Eucerin DermoCapillaire Anti-Dandruff Intensive Scalp Treatment
Effective treatment for dry and greasy dandruff
Soothes itching
Leave-on formula
Anti-dandruff scalp treatment
This leave-on formula fights persistent dandruff, while soothing itching and irritation.
Product Info
Anti-dandruff intensive scalp treatment
Eucerin DermoCapillaire Anti-Dandruff Intensive Scalp Treatment has been specifically designed for both dry and greasy dandruff. Its non-sticky leave-on formula fights persistent dandruff and relieves your scalp from microinflammation. It soothes itching from your first application, and effectively controls persistent dandruff with regular use.
Clinical and dermatological studies
Clinical and dermatological studies prove efficacy and very good tolerability on both a dry and a greasy scalp. Suitable for seborrheic eczema.
Main findings
Relieves the scalp from microinflammation.
Persistent dandruff is reduced and effectively controlled when used regularly.
Soothes the scalp from the first application and reduces itchiness.
Properties
Free-from alkali soap
fragrance-free
How to use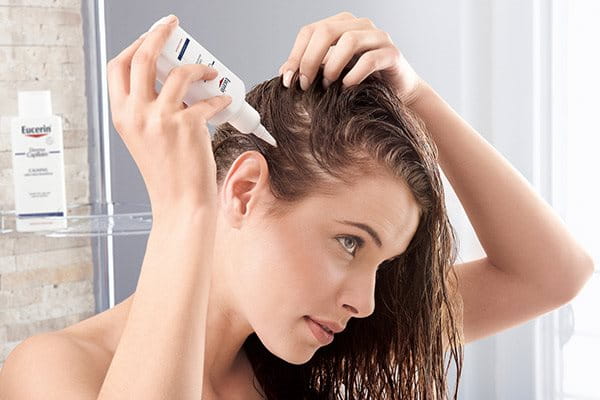 For best results, apply the scalp treatment directly to your scalp.
Instructions
Use the scalp treatment daily with or without washing your hair first. If needed, you can apply the product twice a day in the morning and evening. For best results, we recommend using the full regimen: the shampoo and scalp treatment.
Ingredients
Our brand values
Pioneers in skincare
We deliver a holistic dermo-cosmetic approach to protect your skin, keep it healthy and radiant.
Recommended by dermatologists
We work together with leading dermatologist and pharmacist partners around the world to create innovative and effective skincare products they can trust and recommend.
Committed to innovation
For over 100 years, we have dedicated ourselves to researching and innovating in the field of skin science. We believe in creating active ingredients and soothing formulas with high tolerability that work to help you live your life better each day.