DERMOPURE Mattifying Fluid
8h anti-shine effect
Reduces impurities and refines skin
Prevents excess sebum production
Blemish-prone skin
8h anti-shine effect. Helps reduce blemishes and soothes skin
The fluid is quickly absorbed and feels very comfortable on the skin. I have tried some products, but Eucerin offers the best.
Product Info
A mattifying fluid for acne-prone skin
The innovative Eucerin DERMOPURE Mattifying Fluid effectively counteracts pimples and blackheads and helps to control demanding blemish- and acne-prone skin in the long term. The mattifying fluid contains:
Salicylic Acid: both antibacterial and comedolytic, this helps to reduce blemishes and prevent them from re-appearing
Licochalcone A: soothes skin irritation and inflammation, and reduces redness
Sebum-regulating technology: reduces sebum production
Mattifying particles: provide an 8h anti-shine effect without clogging the pores
Skin is noticeably clearer and the long-lasting matt effect improves the complexion.
Can be used during pregnancy.
Clinical and dermatological studies
Clinical and dermatological studies prove good tolerability and efficacy on blemish-prone skin. Suitable for sensitive skin.
Main findings
In a self-assessment study, 80 men and women with acne-prone skin, aged between 15 and 40, applied Eucerin DERMOPURE Mattifying Fluid twice a day (am and pm) for eight weeks and recorded the following results:
99%: soothes irritation

98%: diminishes visibility of the pores
98%: improves complexion
96%: makes skin smoother and clearer
94%: absorbs excess sebum
94%: helps to control the oiliness of skin
94%: leaves a powdery finish on skin
91%: long-lasting matt effect
91%: visibly reduces blemishes
90%: prevents new blemishes from appearing
85%: reduces redness
Properties
anti-bacterial
non-comedogenic
non-acnegenic
non-greasy
does not clog the pores
lightly-fragranced
Dealing with maskne: mask-induced blemishes
How to use
Instructions
Use the fluid morning and/or evening

Apply a chick-pea-sized amount (gently and evenly) to a thoroughly cleansed face
For best results, we recommend you use this product in combination with cleansers and toners from the Eucerin DERMOPURE range
Avoid contact with your eyes
Ingredients
How Eucerin DERMOPURE Mattifying Fluid works
According to the latest research, inflammation is the underlying cause of blemish- and acne-prone skin. Inflammation is present at all stages of acne ranging from non-visible micro-inflammation to visibly inflamed papules and pustules1.
The Eucerin DERMOPURE Mattifying formula contains ingredients that work together to address the main causes of blemish- and acne-prone skin:
Licochalcone A is a powerful anti-inflammatory that works against micro-inflammation, soothes irritation and helps to reduce redness

Sebum-regulating technology with L-Carnitine to reduce excess sebum production (known as seborrhea)

Salycylic Acid has a comedolytic effect and addresses hyperkeratosis (the disrupted shedding of skin cells).

It also has antibacterial properties.

Decanediol further prevents bacterial growth
Skin is noticeably clearer and the long-lasting matt effect improves the complexion.
1 Das S, Reynolds RV: Am J Clin Dermatol (2014), 15:479-488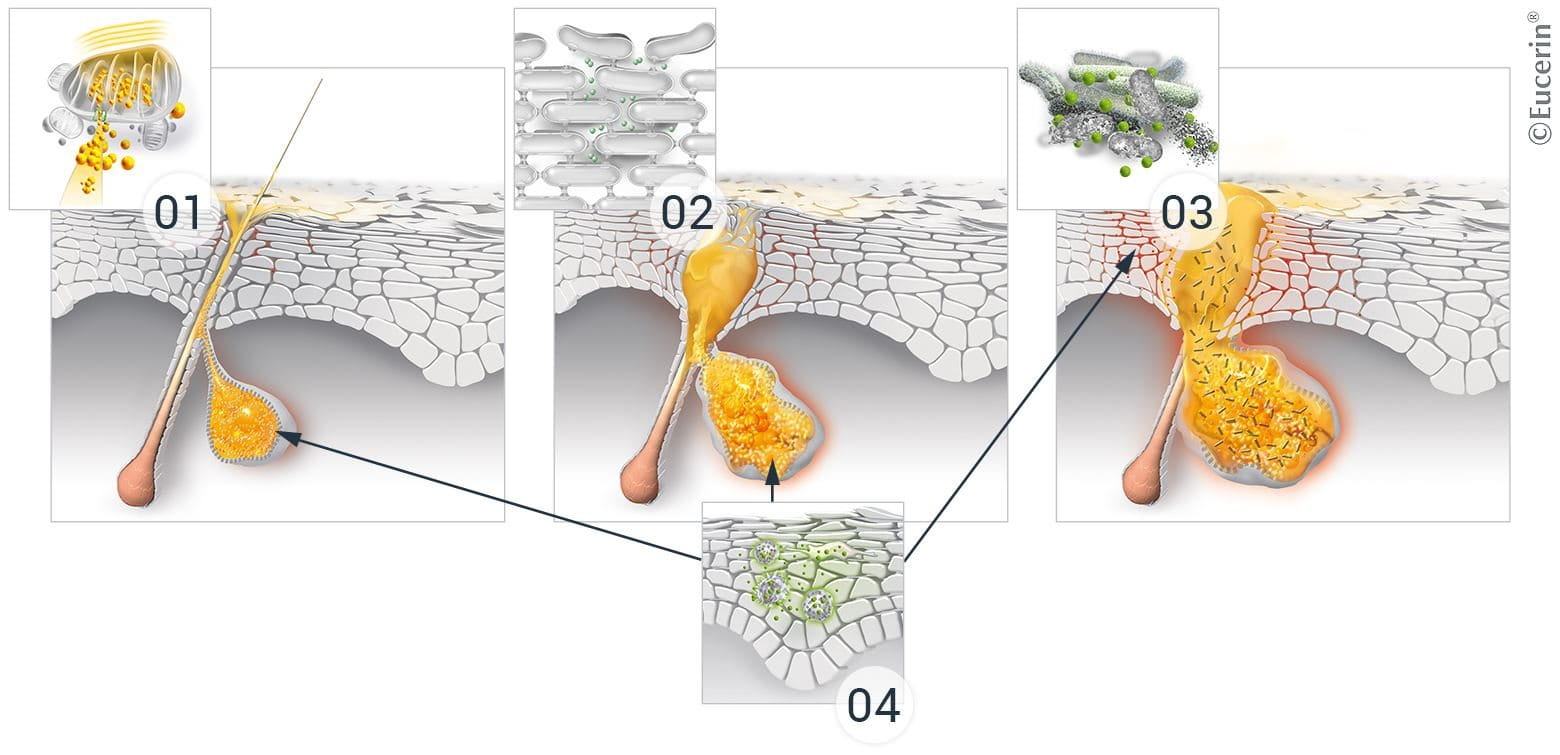 Eucerin DERMOPURE works against inflammation at every stage of the acne cycle
Aqua,
Tapioca Starch,
Glycerin,
Dimethicone,
Cetearyl Alcohol,
Salicylic Acid,
Carnitine,
Decylene Glycol,
Glycyrrhiza Inflata Root Extract,
PEG-150 Distearate,
Ammonium-Acryloyldimethyltaurate-VP-Copolymer,
Sodium Stearoyl Glutamate,
Acrylates-C10-30-Alkyl-Acrylate-Crosspolymer,
Xanthan Gum,
Hydroxyethylcellulose,
Trisodium EDTA,
Sodium Hydroxide,
Sodium Chloride,
Phenoxyethanol,
Parfum
Our brand values
Pioneers in skincare
We deliver a holistic dermo-cosmetic approach to protect your skin, keep it healthy and radiant.
Recommended by dermatologists
We work together with leading dermatologist and pharmacist partners around the world to create innovative and effective skincare products they can trust and recommend.
Committed to innovation
For over 100 years, we have dedicated ourselves to researching and innovating in the field of skin science. We believe in creating active ingredients and soothing formulas with high tolerability that work to help you live your life better each day.